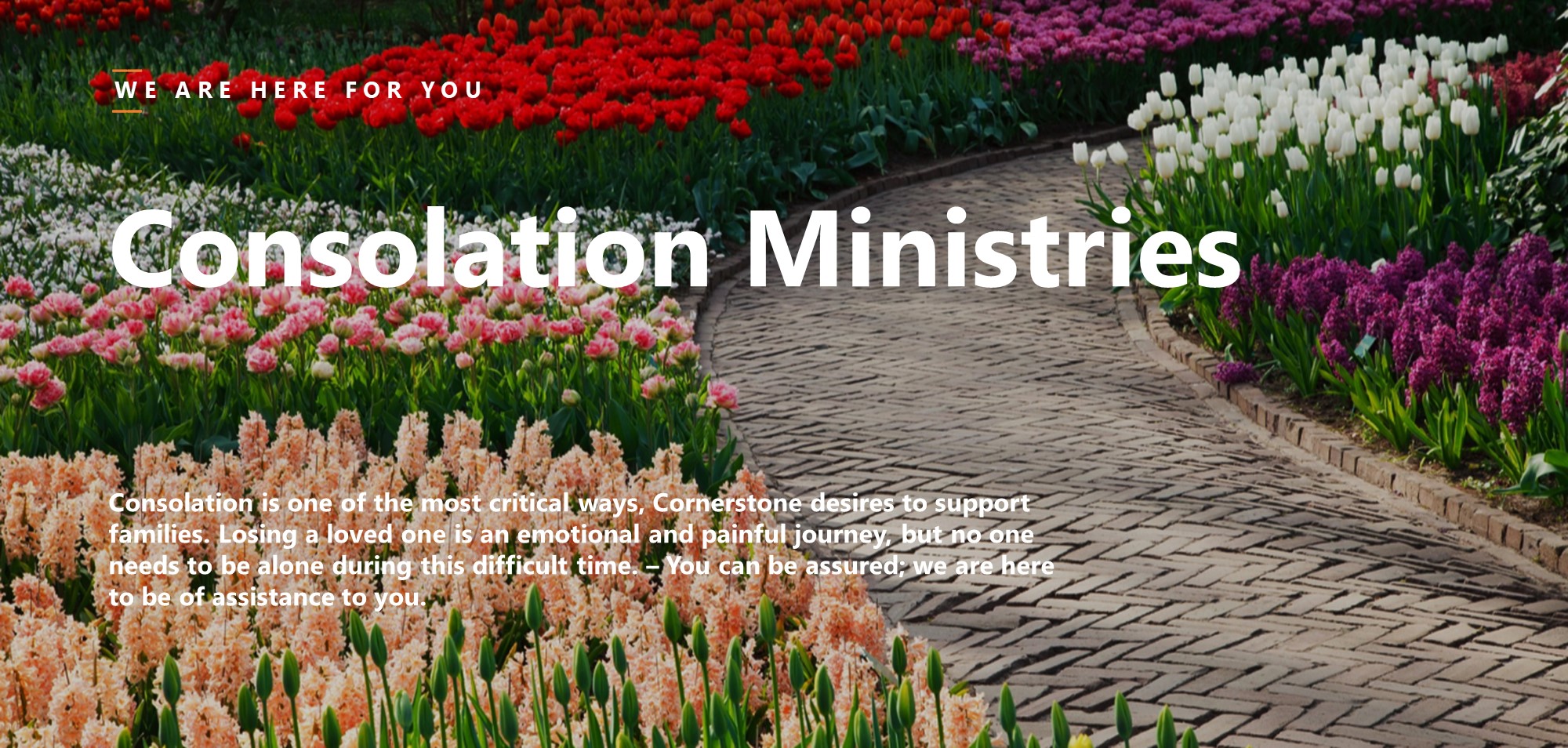 The death of a loved one can be a grief-filled and overwhelming time. No matter how old a person has lived, no person is really prepared for the departure of their loved one; it is always still "too soon." At Cornerstone, we understand and are willing to be of some help to you - whether it be counselling, funeral, or memorial services, we are here for you.
Our pastor is privileged to have helped the families of deceased loved ones as they come with overwhelming pain. He has entered the lives of families in one of their most difficult and sorrowful times when the ache of loss is so profound. He knows it is essential for you and your family members to be listened to, understood, and consoled in a safe and confidential environment.
Our pastor is attentive to the hurt in a person's heart and will walk you through the funeral preparations. His goal is to ensure that grieving families are accepted and comfortable as he helps them prepare for the funeral of their loved one. He strives to bring compassion, comfort, and support to ensure a funeral is a meaningful, positive, and healing experience.
Please let us know if you believe we can be of assistance to you.
Contact:
Rev. James Howard

Pastor, Cornerstone Baptist Church
ph. (905) 847-3530 | pastor@cornerstonebc.ca

God bless you!
Browse through these questions to find the answers you seek.
No, because Cornerstone does not have its own permanent facility.
Yes, our pastor is available to assist you by conducting a funeral or memorial service for your loved one. He has experience working with families and funeral homes in coordinating funeral or memorial service logistics. He is present to support, guide, and assist the family in the selection of the readings, and their choice of music and all that a funeral entails including the committal. Usually he handles the religious details, and the funeral home handles the preparation and burial.
A funeral service is a gathering of family and friends with the deceased's body present.
At a memorial service the body is not present.
No. The family may make the cremation arrangement with the funeral home.
Our pastor is experienced in providing counsel from a Biblical perspective. He is available to assist you and yours during this difficult time, even if you did not request him to conduct a funeral. Rest assured, God knows you have experienced a huge loss and God has something applicable to say to you.
Services


Sunday Bible Classes 9:45 AM

Sunday Morning Worship 10:30 AM

Sunday Evening Gathering 5:00 PM


Midweek Bible Study 6:30 PM*




Youth Nights 5:00 PM

last Sunday night of each month


Meeting Locations

Sunday Services


Holiday Inn (Oakville) Centre


590 Argus Road | Oakville, ON

Midweek Bible Study

*(Locations, Dates & Times Vary)

Contact Us

Cornerstone Baptist Church

Box 60057 | RPO Glen Abbey


Oakville, ON L6M 3H2





ph. (905) 847-3530

office@cornerstonebc.ca