Cornerstone is a place where you can you worship God,

connect with others, and serve your community!

Cornerstone is a church of loving and caring friends, who gather throughout the week from across the Toronto area. It is our desire for all people to personally know the hope of hope of God's amazing grace! We invite you and your family. It is our desire for all people to personally know the hope of God's amazing grace.
We invite you and your family to join us at our next service or at any one of our special events. We look forward to meeting you in person!


If you are experiencing a difficult time in your life, Cornerstone offers to practically assist you.
If you believe, we could be of any assistance to you or have any questions regarding our church, upcoming events, or how we can connect with you --- please let us know.

You may use the I Want to Connect form
or call our church office - 905.847.3530

Be Our Guest this Sunday
our services are held at

The Holiday Inn Oakville (Centre)
590 Argus Road • Oakville, Ontario
Cornerstone is located minutes fromm
We offer distinct and unique Sunday services to aid individuals and families in their Christian life.
Bible Classes for All Ages • 9:45 AM
Separate sessions provide children and adults fresh opportunities to learn the Bible.
If you're curious about Christianity, a new believer, or have been walking with the Lord for years,
these classes can help you learn more about Jesus Christ and Biblical lessons for living.
Sunday Morning Service • 10:30 AM
Our primary purpose on Sunday mornings is to worship God!
A proper focus on God and His Word glorifies His name and encourages believers.
God's presence is known in a special way as we sing, pray, and listen to His Word!

Sunday Evening Gathering • 5:00 PM
Each Lord's Day is finished with an informal and relaxed 1 hour service.
We enjoy singing, praying, hearing a relevant Bible message, along with a sense of community.
This is a wonderful opportunity to connect with others like yourself for friendship and fellowship as you grow in your faith.
Cornerstone Kids' is our compassionate and comprehensive program offered to children and their parents during each of our regular Sunday services. Here all children experience acceptance, are engaged in learning, can express their faith, and enjoy themselves.
Wednesdays in the Word • 7:00 PM
Genuine friends meet each week for an interactive Bible study led by our pastor.
A great better way to expand your knowledge and understanding of the Bible.
Cornerstone Kids' offers creative opportunities for younger children to learn the Bible on their own level.
* please contact us for our midweek location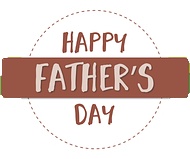 Sunday morning | June 17, 2017 | 10:30 am
Celebrating the men who we always look up to no matter how tall we are
• special gift for each dad in attendance